MADBARN- VISCERAL+
Regular price
Sale price
$90.00 CAD
Unit price
per
Sale
Sold out
*Larger sizes available please email for special order*
Don't let ulcers affect your horse's performance and well being. Get Visceral+ to maintain stomach and hindgut health. Supports the function of the immune system.
Mad Barn's Visceral+ is a comprehensive nutritional solution for horses with Equine Gastric Ulcer Syndrome (EGUS) and other forms of digestive upsets.
Visceral+ is formulated with the highest quality probiotic ingredients, earth-grown nutrients, minerals and amino acids that your horse needs to naturally support the body's own healing mechanisms and restore the integrity of the stomach and intestinal lining.
Visceral+ was developed in conjunction with veterinarians tired of treating ulcers with GastroGard (omeprazole) or UlcerGard only to have horses relapse post-treatment. Visceral+ is clinically proven to heal stomach tissue, improve condition and health.
Visceral+ provides complete coverage from stomach to colon, stimulating healing of ulcers and preventing recurrence.
VISCERAL+ SUPPORTS:
Stomach Health
Overall Well-Being
Gut Health
Digestive Function
Immune System
Athletic Performance
Energy Metabolism
Nutrient Absorption
Tissue Repair
Mood Balance
Animal Comfort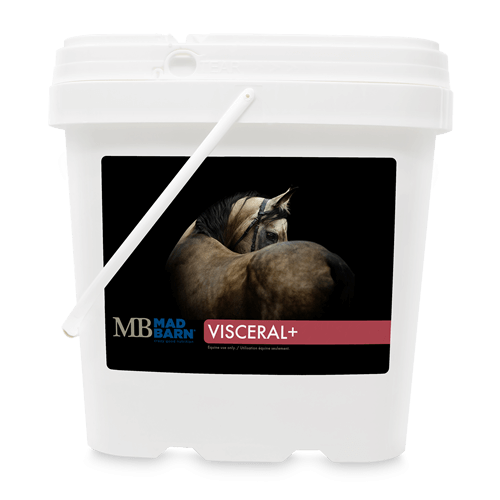 Wonderful product
The visceral + was recommended to me for my two young horses. They have been on it for 6 months and what a difference! Not only do they have gorgeous summer coats this year but they also are so happy and relaxed. This product has saved me so much money on gastrogaurd! Dixon Saddlery has amazing customer service and high quality products that are hard to find! And the bonus… they deliver!!! LOVE this family owned company!