MADBARN- AT+ PELLETS (Formerly known as AMINOTRACE+)
Regular price
Sale price
$65.00 CAD
Unit price
per
Sale
Sold out
*Larger sizes available please email for special order*
AminoTrace+ is designed to provide the ultimate nutrition for improved hoof quality, absorption of nutrients and improved digestion – all in a convenient pelleted format. When a custom formula is not possible or practical, AminoTrace+ is an excellent choice to balance your IR/Cushing's/PPID equine companions diet.  Not just for metabolic horses, AminoTrace+ is an excellent choice to fortify any horse's diet.
AMINOTRACE+ SUPPORTS:
Metabolic Health
Mineral Balance
Tail, Mane and Hair Growth
Insulin Sensitivity
PPID/Cushing's Horses
Hoof Growth and Structure
Antioxidant Defense
Digestion and Nutrient Absorption
Hindgut Health
Mad Barn's AminoTrace+ is a comprehensive mineral and vitamin supplement designed to provide the ultimate nutrition for improved metabolic health, hoof quality and nutrient absorption.
AminoTrace+ was formulated specifically to ECIR group specifications to support equine companions with Insulin Resistance (IR), Equine Metabolic Syndrome (EMS) and/or Cushing's Disease/Pituitary Pars Intermedia Dysfunction (PPID).
Instead of purchasing many additional supplements to balance your forage, Mad Barn makes it easy to care for your IR horse with AminoTrace+.
The super-concentrated, pelleted formula correctly balances a wide range of forages and supplies the nutrients that your horse needs to combat inflammation, restore mineral balance and improve digestive health – no additional supplements needed!
Is your horse a fussy eater? AminoTrace+ is formulated to be palatable so that getting the appropriate nutrition into your equine companion is easier than trying to balance it with a bunch of unpalatable powders. This product contains no added sugars and only low NSC ingredients are used to pellet.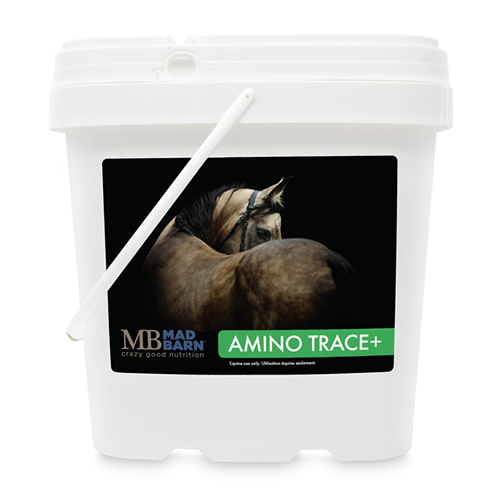 New to the product
Have not started using it yet but was given a wealth of information by Dixon saddlery. Looking forward to using it.