MadBarn- OPTIMUM DIGESTIVE HEALTH
Regular price
Sale price
$53.99 CAD
Unit price
per
Sale
Sold out
The ultimate equine digestive supplement. Optimize hindgut health, increase nutrient absorption and enhance immunity with natural probiotics, prebiotics, enzymes and nucleotides. In uber palatable pellets.
OPTIMUM DIGESTIVE HEALTH SUPPORTS:
Hindgut Health
Microbiome Balance
Prevent Digestive Upsets
Immune System
Nutrient Absorption
Toxin Removal
Digestive Function
Colostrum Quality
Mental Focus
Even the best nutrition programs will fail without maintaining gut health.
That's why we developed Optimum Digestive Health Pellets – to restore balance to the gastrointestinal tract, improve feed efficiency, support energy metabolism and boost nutrient assimilation.
Mad Barn's Optimum Digestive Health gives you total GI tract coverage that works in five key ways:
Stabilizing the gut flora, reducing the risk of dysfunction and colic
Providing intestinal enzymesthat improve the digestibility of feed
Stimulating hindgut development to support the fermentation of fiber
Contains toxin binders that remove harmful substances before they can be absorbed
Source of natural immune modulators
Tired of powdered supplements that get left behind? Mad Barn's Optimum Digestive Health is an uber palatable, pelleted equine digestive supplement that contains a unique combination of probiotics, prebiotics, yeast, enzymes and a proprietary blend of nucleotides.
This is the most comprehensive solution on the market to address optimal hindgut health. Best of all, these ingredients are 100% naturaland come from renewable resources.
WHY USE OPTIMUM DIGESTIVE HEALTH?
Does your horse exhibit any of these signs of poor digestive function?
Loose manure/diarrhea
Poor topline
Lack of muscle
Weight loss
Loss of appetite
Constipation
Poor quality coat
If so, your horse may benefit from Optimum Digestive Health. Our all-in-one dietary supplement provides everything you need to get your horse's digestive system back on tract. There is no shortage of pre- and probiotics on the market for your horse. But there hasn't ever been a formulation like this.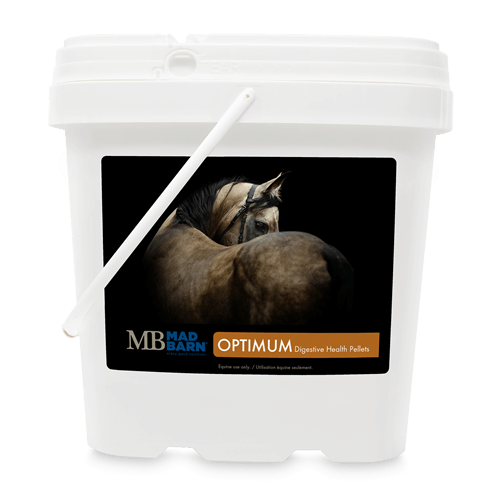 Good product
Have had my mare in optimum digestive health now for a few months and she is doing much better. Less girthy and no more tail swishing.
Michelle always ensures that my orders are filled quickly and delivered promptly as well