MADBARN- W-3 OIL 5 LTR -Box
Regular price
Sale price
$66.99 CAD
Unit price
per
Sale
Sold out
NEW Larger Size with 2x the DHA and 3x the Vitamin E. w-3 Oil is designed as an equine energy and essential fatty supplement to support your horse's cardiovascular function, skin, joint health and weight maintenance. All the omega-3 benefits of fish oil, without the fishy smell and taste.
Mad Barn's w-3 Oil is the ultimate essential fatty acid and energy supplement for your horse. Carefully formulated with proven ingredients, this product supports cardiovascular function, immune health, skin and joint health, weight maintenance and more.
w-3 Oil contains both plant and marine sources of natural fatty acids, as well as the essential fatty acid DHA, which is not found in plant sources of oil/fat.
w-3 Oil is one of the only equine supplements made with microalgae-synthezied DHA, which has all the benefits of fish oil but is far more palatable to the horse.
Finally… a high-quality supplemental oil for your horse that goes above and beyond at a great price.
NEW PACKAGING WITH 20% MORE OIL AND 2X MORE DHA:
w-3 Oil is now available in a larger 5 L pouch size with double the amount of DHA and triple the Vitamin E at a slightly lower cost per serving! This change helps to reduce Mad Barn's environmental footprint, using 60% less packaging.
More value, better health for the horse and less impact on the environment – a major product improvement and no increase in cost.
WHY SUPPLEMENT WITH W-3 OIL?
Supplementing fat in your horse's diet may be beneficial at all life stages. However, w-3 Oil is more than just an equine fat supplement. It's an extra-fortified oil that supplies your horse with the essential fatty acid DHA which is not found in plant-based diets. It is further fortified with high levels of Vitamin E.
Horses do not obtain the long chain fatty acid DHA from their diet. They convert the essential fatty acid ALA into DHA, but the conversion is not efficient and may lead to sub-optimal levels. Supplementing can avoid this and enhance cognitive function, improve cardiovascular health, and reduce inflammatory processes.
Cool Energy
w-3 Oil delivers high amounts of polyunsaturated fatty acids (PUFAs).
Unlike starch and other carbohydrates, fatty acids are metabolized at a much slower rate and utilized very efficiently in the horse's body. The resulting effects of feeding supplemental fatty acids are:
Reduced spikes in blood glucose

 

that can trigger excitability and sensitivity in a horse following a starch-heavy meal
Lowered risk of hind gut acidosis

 

and intestinal discomfort that arises from feeding high-grain diets
Increased muscle glycogen stores

 

that supply lasting energy for high-intensity exercise
Not only is w-3 Oil beneficial as a source of energy, but it will also make your horse's coat gleam! When the diet is higher in fat, sebum production in the horse's skin increases, which lends the coat a shiny appearance.
Fight Inflammation with DHA for Horses
w-3 Oil contains high levels of natural DHA, or Docosahexaenoic Acid, an omega-3 fatty acid. DHA is synthesized in the horse's body from ALA (Alpha-linolenic acid), but the conversion efficiency is extremely low and it must be obtained from dietary sources to elevate levels for improved health benefits.
w-3 Oil contains a supplemental source of DHA derived from marine algae. w-3 Oil is one of the only equine fatty acid supplements on the market to provide DHA from marine algae- a source that is much more sustainable and concentrated than DHA derived from fish.
Better yet, the resulting oil doesn't smell or taste like fish. Horses love the taste of w-3 Oil!
Increasing the amount of omega-3 fatty acids in your horse's diet can decrease the production of inflammatory molecules in cells. This can result in better regulation of the inflammatory response that stems from conditions such as:
Laminitis
Equine Metabolic Disorder
Insulin Resistance
Degenerative joint disease
Allergies
Chronic lower airway diseases
Antioxidant Protection with Vitamin E
Each bottle of w-3 Oil contains high levels of natural vitamin E, also known as d-alpha-tocopherol. Vitamin E is a fat-soluble vitamin that is often found in very low levels in the modern equine diet.
Studies involving horses show that natural vitamin E is more bio-available and more easily absorbed and retained in tissues than synthetic vitamin E (dl-alpha-tocopherol).
Vitamin E works as an antioxidant alongside vitamin C, glutathione, and selenium to combat oxidative stress. It works by protecting the polyunsaturated fatty acids in cell membrane phospholipids and plasma lipoproteins, contributing to improved cellular membrane integrity.
Supplementing natural vitamin E in the equine diet, in combination with essential fatty acids, can reduce oxidative tissue damage that emerges from:
Strenuous exercise
Systemic inflammation from metabolic diseases
Neurological diseases
Muscular disorders such as RER (Recurrrent Exertional Rhabdomyolysis)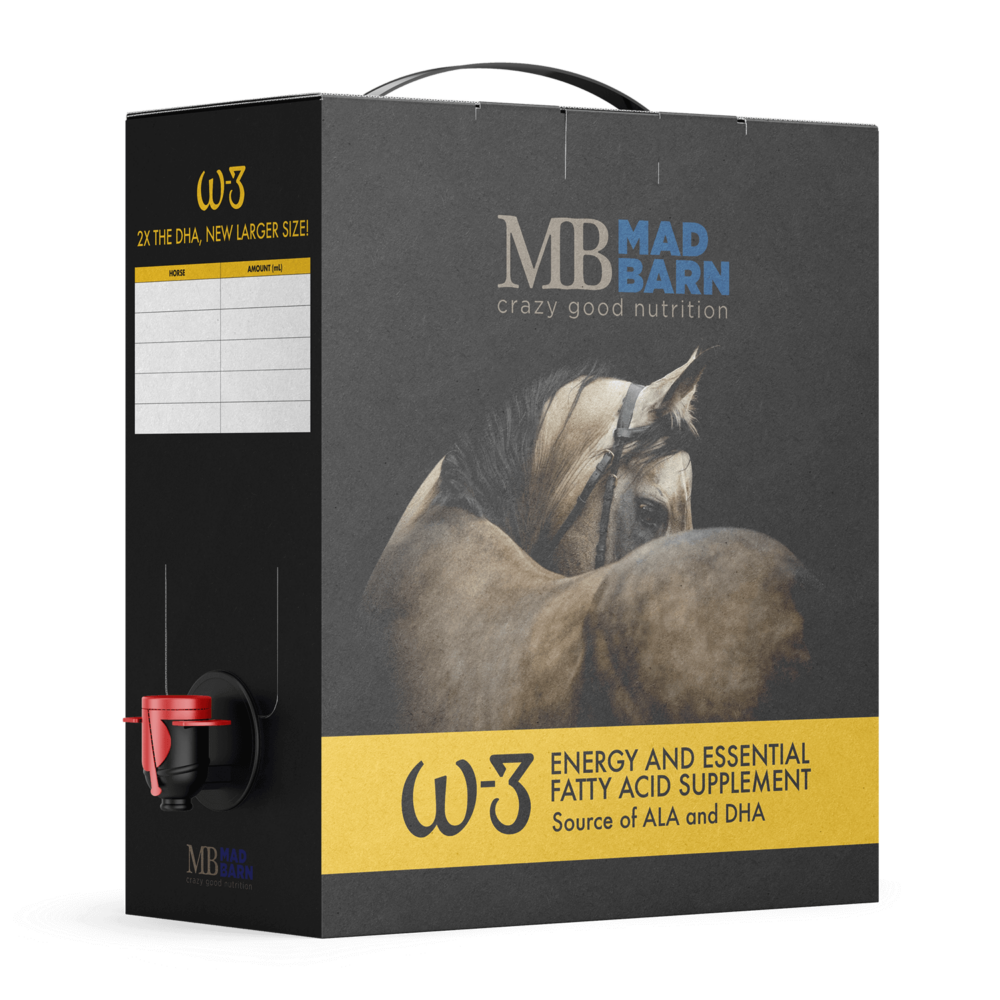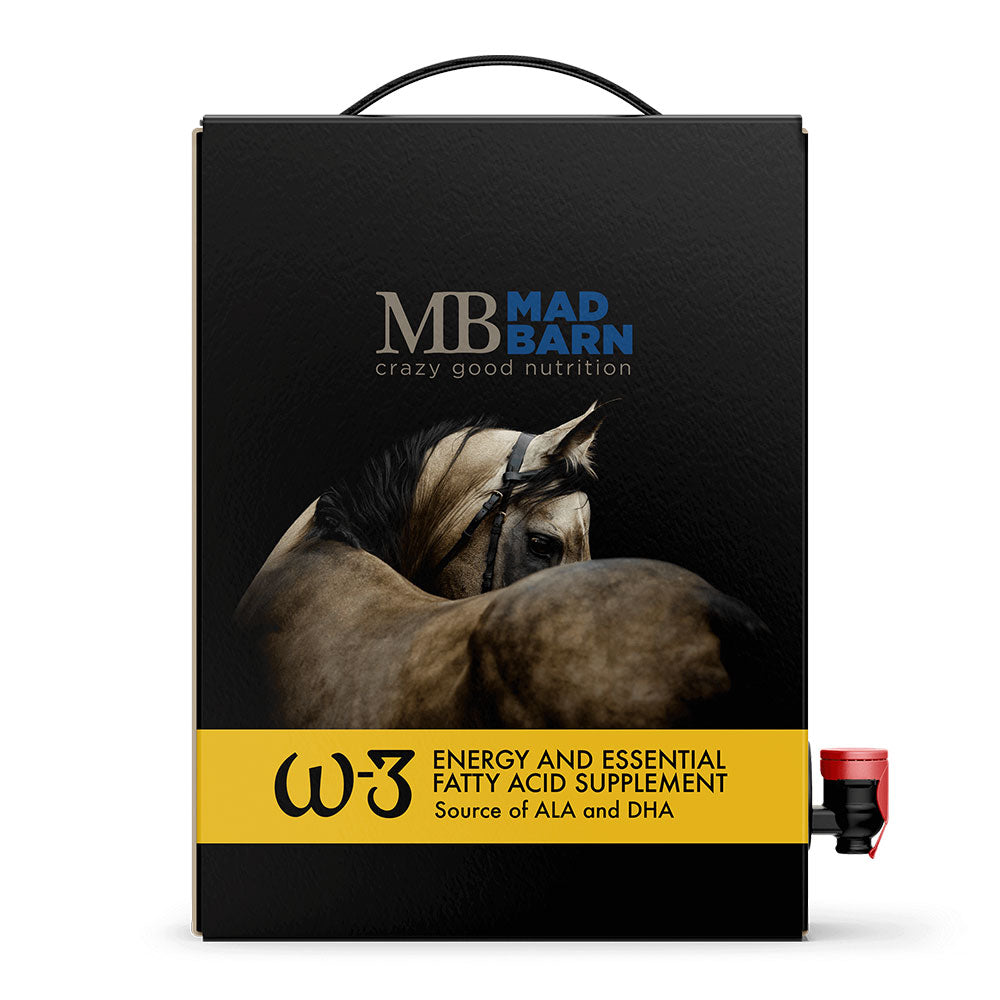 W3 oil
Love this oil, use it for my yearling and full grown horse.
Great Oil
My horses love it and look great on it! easy and affordable addition to your feed routine!